Danny Bullard
Sprint 4G Rollout Update
Friday, March 23, 2012 - 2:44 PM MDT
Hello S4GRU readers, today I will be giving my verdict on the new iPad. I will tell you what I
like
about the new iPad and what I
don't like
about the new iPad. Let's get started...


What I like about the new iPad

1.) After using the iPad for a few minutes at BestBuy, I fell in love with it's beautiful retina display. This display's PPI is 264, while packing an astonishing 2048x1536 resolution. The screen is just perfect, the colors are great and you can't really see any of the pixels when really looking at the display.






2.) If you've used the iPad 2's camera, I'm sure you are aware how horrible they perform. That's not the case with the new iPad, Apple upgraded the horrible 0.3MP camera to 5MP, using the same five-element optics from the iPhone 4S on the new iPad. The iPad was only capable of taking 720p video, but now the new iPad can record up-to 1080p HD video. After taking a couple shots with the camera, the camera is actually usable, in a good way.

3.) The new iPad packs a dual core CPU and a quad core GPU. After playing around with the new iPad, I've noticed it just seems faster then the iPad 2 when switching in between apps and etc. When it comes to gaming performance, the new iPad did not disappoint. Games look and perform great on the new iPad. Titles like Infinity Blade II look pretty darn good and I didn't notice any lag while playing this game.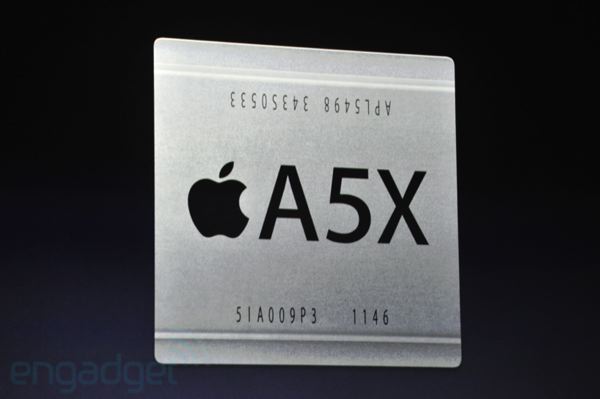 Not everything is perfect, and this applies to the new iPad. Now I will go over what I didn't like about the new iPad.

What I don't like about the new iPad

1.) When the new iPad was announced, people were disappointed that there was really no physical difference between it and the iPad 2. When I compared the two tablets side by side and asked people which one is the new iPad, only a couple people could tell me. Honestly, I think that when a product's successor comes out, there should be at least a little physical difference.

2.) With the upgraded camera on the new iPad, you'd think Apple would include a LED flash this time around, right? Well no, the iPad is still lacking a LED flash. While I was surprised with Apple's decision to not include a LED flash on the new iPad, it wasn't the only thing Apple did not include with the new iPad....

3.) If you've used the iPhone 4S, I'm sure you've used Siri. Siri is a personal voice assistant. You can have Siri send text messages for you, get you directions and more. With the upgraded GPU, I'm also shocked that Apple did not include Siri with the new iPad. Some people are disappointed with Apple's decision to not include Siri. Even though the new iPad is lacking Siri, Apple did include Voice dictation on the new iPad.

4.) When Apple announced the new iPad, they announced LTE versions for AT&T, Verizon and some Canadian carriers, While I was happy Apple decided to add LTE to the new iPad, I was disappointed that Sprint did not get any iPad loving. While we really don't know why Sprint did not get the new iPad, we can all pretty much assume that Apple didn't want to announce a LTE iPad on Sprint's premature 4G LTE network. Even though Sprint doesn't have the new iPad on their network now, doesn't mean Apple won't announce the new iPad on Sprint's network later this year.

That's my verdict on the new iPad. Feel free to sound off in the comments telling what you love and hate about the new iPad.

Photo Credit: Engadget, Mashable